Tender top sirloin and tangy citrus are the stars of this show. You can use oranges or tangerines for this
recipe
, either way, it is delicious.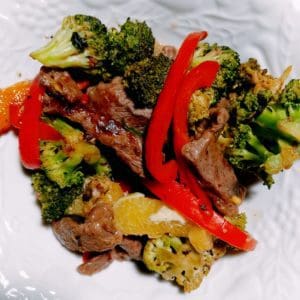 Allow me to introduce Spicy Orange Beef! It is a delicious and easy stir-fry dish.  It can be paired with rice or noodles, but personally, I love it by itself.  This dish can be made in a wok or 12-inch skillet.
This recipe can be veganized by replacing the beef with Gardein beef tips or firm tofu. It was would probably work well with seitan too. Of course, it can also be a vegetable stir-fry; however, you would want to add sliced sweet onions, carrot chips, snow peas, or sugar snap peas.
Spicy Orange Beef, like other stir-frys, requires a little bit of skill and preparation to pull off without a hitch. The following tips can help give you a leg up on this recipe. Be sure to have your mise en place finished before you start.  Mise en place means everything in its place.  In the culinary world, it is basically prep work.  Since a stir-fry cooks very quickly, it is crucial to have all the ingredients measured, chopped as required by the recipe.
Do not crowd the cooking vessel. Be sure to keep the food moving in the pan or wok continuously, except when a recipe says otherwise.  Use a wooden or silicone spatula to keep from scratching up the wok or pan. Add your sauce in the last step of the cooking.
Shortcuts
I think it is evident by now that I enjoy a good stir-fry.  Besides this Spicy Orange Beef recipe, I have posted Stir-Fry Beef and Broccoli and Thai Beef with Basil recipes.  It is the versatility and quickness for me. Buying pre-prepped ingredients can save time with prep work; consequently, those items will be more expensive. Stir-in ginger, pre-peeled garlic cloves, bagged broccoli florets, and carrot chips are some of the short cuts I feel safe taking.
Minced garlic stored in liquid is one of my least favorite shortcuts.  It just does not have the same flavor as fresh chopped garlic.  When using pre-peeled garlic, I usually pass it through a garlic press.  This technique works well with sauces, soups, or any recipe where you do not want garlic pieces. Of course, you can slice and chop it as needed.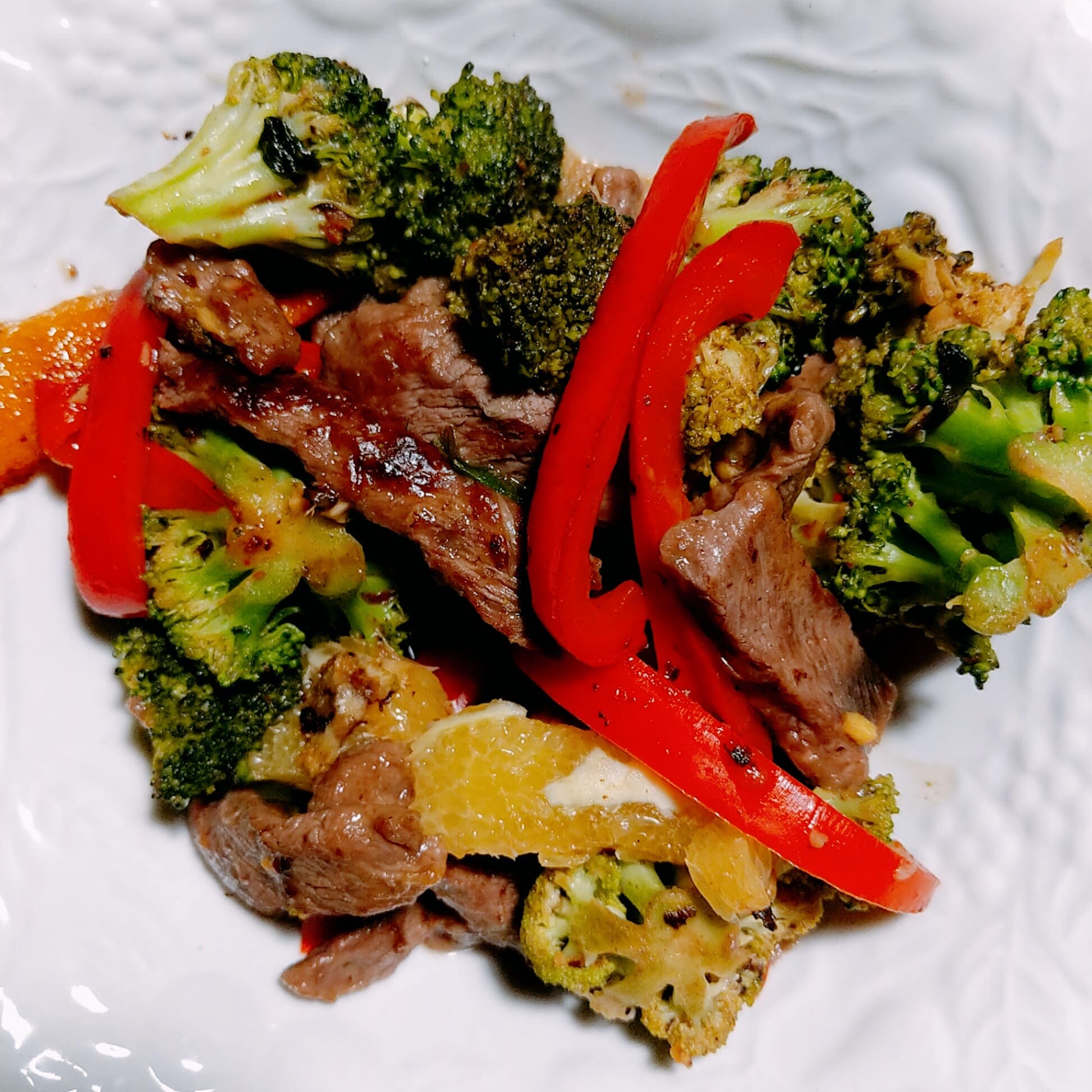 Ingredients
3

medium navel oranges

or 4 tangerines

1

large bunch of broccoli

1½ lbs (or 10oz bag of florets )

3

tbsp.

vegetable oil

12

oz.

boneless top sirloin steak

thinly sliced crosswise

2

tbsp.

cornstarch

plus ½ teaspoon

2

tbsp.

3

green onions

cut on diagonal into 2-inch pieces

1

red bell pepper

thinly sliced

1

serrano chile

finely chopped, seeded for less heat

3

cloves

garlic

finely chopped

1

tbsp.

fresh ginger

peeled and minced

¼

cup

soy sauce

¼

tsp.

crushed red pepper
Instructions
Using a paring knife, peel and remove with white pith from 1 orange. Hold the orange/tangerine over a small bowl to collect the

fruit

and juice. Cut

fruit

away from the membrane to release each section by making a slice on each side. Set aside. With a vegetable peeler, cut 3-inch strips, about ¾ in wide from the other two oranges or 3 tangerines. Remove any of the white pith with a paring knife. Squeeze ¾ cup of juice into a bowl and set aside.

Cut

broccoli

into florets breaking down any larger pieces (if using the bagged florets, halve or quarter any large florets). Peels the stems and cut into ¼-inch thick slices.

In a cup, combine the orange juice, soy sauce, crushed red pepper, and remaining½ teaspoon cornstarch and store until blended.

In a 12-inch skillet or wok, heat 2tablespoons oil over high until very hot. Add peel strips and cook until lightly brown, about 3 minutes. Keep them moving. Transfer to a larger bowl.

On a

baking

sheet, place the

meat

on a single layer and springer with 2tablespoons of cornstarch, coating evenly. Add half of the

beef

to skillet and

stir-fry

until brown on both sides, about5 minutes. Transfer to the bowl with the peels. Add the last tablespoon of oil and repeat with the last of the

beef

.

Give cornstarch mixture again, then add to the skillet. Stir until thickened. And boils.

Return

beef

mixture to skillet. Add citrus sections and juice in the bowl; toss to combine.
Notes
If the citrus fruit is a little bitter, add about 1 tablespoon of honey.
It takes a little practice to section an orange beautifully. Take a look at this guide on the Pioneer Woman website
Use the edge of a spoon to peel the ginger easily.
Nutrition
Serving:
0
g
|
Calories:
432.78
kcal
|
Carbohydrates:
34.02
g
|
Protein:
25.27
g
|
Fat:
23.76
g
|
Saturated Fat:
5.71
g
|
Trans Fat:
0.08
g
|
Cholesterol:
66.34
mg
|
Sodium:
986.69
mg
|
Fiber:
8.5
g
|
Sugar:
13.85
g
|
Vitamin A:
14.1
IU
|
Vitamin C:
303.54
mg
|
Calcium:
17.59
mg
|
Iron:
18.77
mg
Share on Facebook
Share by Email
Share on Twitter