Easy
one of my favorite dishes of all time. This
easy
beef
stir fry is quick and delicious.  I prefer my
broccoli
to be crisp-tender.
Stir-fried beef-n-broccoli is one of my favorite dishes. It is super quick and straightforward. The key is to get all your mise en place done and cut your flank steak on a bias.  It is also great with chicken, pork tenderloin, and several meat substitutes.
Mise en place means everything in its place.  We also call it "prep work."  When doing any fast cooking dish, such as stir fry, mise en place is essential.  Take a little time beforehand to get everything chopped, mixed, and ready to be placed inside the hot wok.
When people say they hate cooking, it is usually for one or more reasons outside of the actual task of cooking.
They do not have the proper tools.
Make sure you understand the wording of a recipe.
The recipe is poorly written.
Here are a couple of tips for the above.
Before you try this stir-fried beef and broccoli recipe, make sure you have the proper tools.
Those tools include cookware (pots and pans), utensils (tongs, spatulas, graters, and such).  When picking a recipe, make sure you have all you need to perform the method.  Also, a sharp knife makes all the difference in the world.  Pick a "steel" for honing the knives. Proper storage goes a long way. Guards for the blades or magnetic strips are excellent ideas. I would skip the storage block as some can dull the knives. I would suggest skipping the home sharpening for a professional.  Depending on how much usage the blades get, they may only need sharpening once or twice a year.
Read the recipe before you start cooking.
There is nothing worse than getting everything together to realize some has marinated for 8 hours.  Reading a recipe for more than the list of ingredients is vital.  It can tell you when is the best time to make the recipe, such as the weekend or weekday.
Make sure you understand the wording of a recipe.
Not all recipes are well written. Some cooks assume you have a specific knowledge set when writing a recipe.  Some methods are for professional cooks and chefs.  The New Food Lovers Companion (2001) is an excellent book for all cooking terms.  Once you get a handle on the definitions, another great book is Culinary Artistry (1996). This book helps with pairing flavors.
Once there is a good understanding of the four tips above, cooking becomes a much easier process.  Try them out and let me know what you think!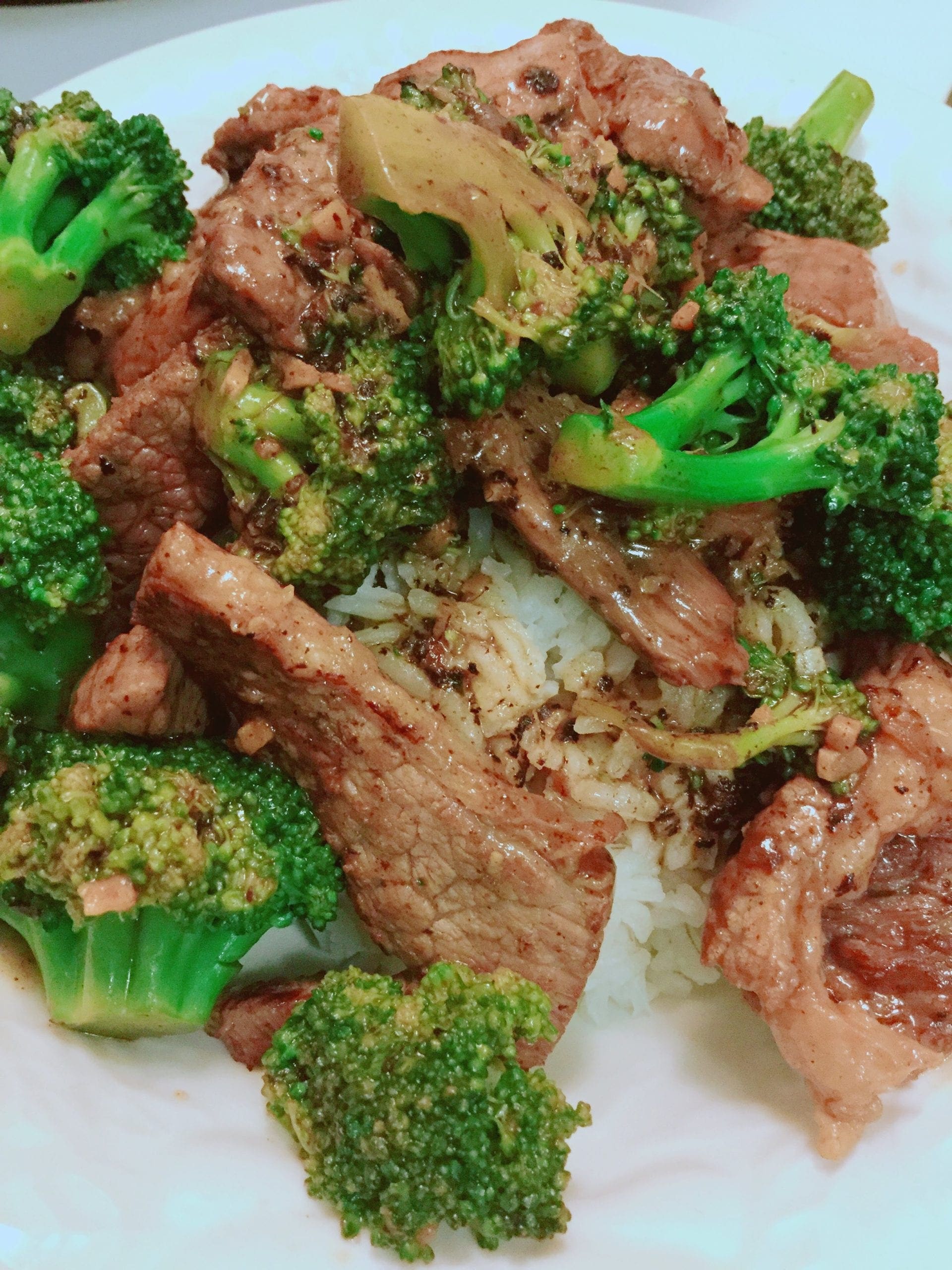 Ingredients
Instructions
In a large bowl, combine soy sauce, 1 teaspoon oil, 2 teaspoons cornstarch, and honey.

Cut Flank steak lengthwise in half. With knife held in slanting position, almost parallel to the cutting surface, cut each half of steak crosswise into ⅛-inch thick slices. Add

meat

to soy mixture; toss to coat. Cover and refrigerate for 30 minutes.

In a nonstick 12-inch skillet or wok, heat 1teaspoon oil over high heat. Add

broccoli

florets and stems and cook, stirring frequently (stir-frying), 1 minute. Add ¼cup water. Cover and cook 2 minutes; remove cover and cookie, stir-frying, until water has evaporated, about 2 minutes longer. Transfer to large bowl; keep warm. Wipe skillet with paper towels.

In a small bowl, blend the remaining 1teaspoon cornstarch and 1 tablespoon water until smooth; set aside. Heat the remaining 1 teaspoon oil in a skillet over high heat until hot. Add ginger, garlic, and crushed red pepper; cook 30seconds. Stir in remaining ⅓ cup water and oyster sauce; heat to boiling. Stir in cornstarch mixture.

Stir-fry

until sauce has thickened and boils. Stir

beef

and

broccoli

into sauce in pan; heat through. Transfer to warm platter.
Notes
Nutrition
Serving:
0
g
|
Calories:
305.62
kcal
|
Carbohydrates:
13.52
g
|
Protein:
28.51
g
|
Fat:
15.79
g
|
Saturated Fat:
4.35
g
|
Trans Fat:
0.04
g
|
Cholesterol:
77.11
mg
|
Sodium:
791.01
mg
|
Fiber:
3.46
g
|
Sugar:
3.68
g
|
Vitamin A:
4.41
IU
|
Vitamin C:
126.76
mg
|
Calcium:
9.91
mg
|
Iron:
15.87
mg
Share on Facebook
Share by Email
Share on Twitter