Tender and delicious whole poached
chicken
is versatile, and you can use it in unlimited ways.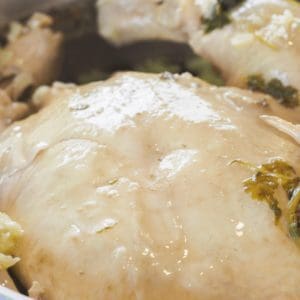 Poached Whole Chicken is juicy and tender with hundred of uses in the culinary world.  From soup to quick meals having poached chicken on hand will come in clutch at mealtime.  I always have dark, white, and mixed chicken in my freezer.  Use the meat in almost any recipe that calls for canned or rotisserie chicken.  
Regardless of it is longer cooking time, this recipe is straightforward to prepare.  If time is a problem, an Instant Pot can help. Moreover, boneless and skinless chicken breast and thighs and bone-in and skin-on legs, thighs, breasts, and wings provide another way to save time.  However, boneless and skinless options will yield a broth instead of a stock. 
Simply stated, poaching is simmering food in liquid on the stovetop.  It is an excellent cooking method for fruit, eggs, chicken, vegetables, and fish since it does not break down food or rob its moisture.
Furthermore, the simmering liquid ranges from broth to wine, depending on the desired flavors. Fruit is often poached in wine.
Aromatics are also used to impart flavor into the food.  Typically, onions, celery, carrots, whole peppercorns are added to the poaching liquid; however, stronger flavors such as whole cloves, star anise, and ginger can be used. On the other hand, water alone may be more appropriate, like when poaching eggs. 
While using an Instant Pot, is technically not poaching it does provide very similar results in about a quarter of the time. Cooking time will vary depending on the size of the bird.  Refer to your manual for directions.
Poached Whole Chicken is great for chicken salad, leafy salads, soups, stews, enchiladas, tacos, sandwiches, and casseroles.  The list goes on and on.  Furthermore, this recipe keeps the ingredients simple to allow for customization in the final dishes. 
It can be especially beneficial for those on a special diet such as soft foods.  Poached chicken has been on the menu for dieters for years.  
Additionally, a delicious collagen-rich stock is leftover waiting for use in other dishes once the chicken finishes cooking.  The stock can serve as a flavor base for soups, gravies, stews, rice, and more.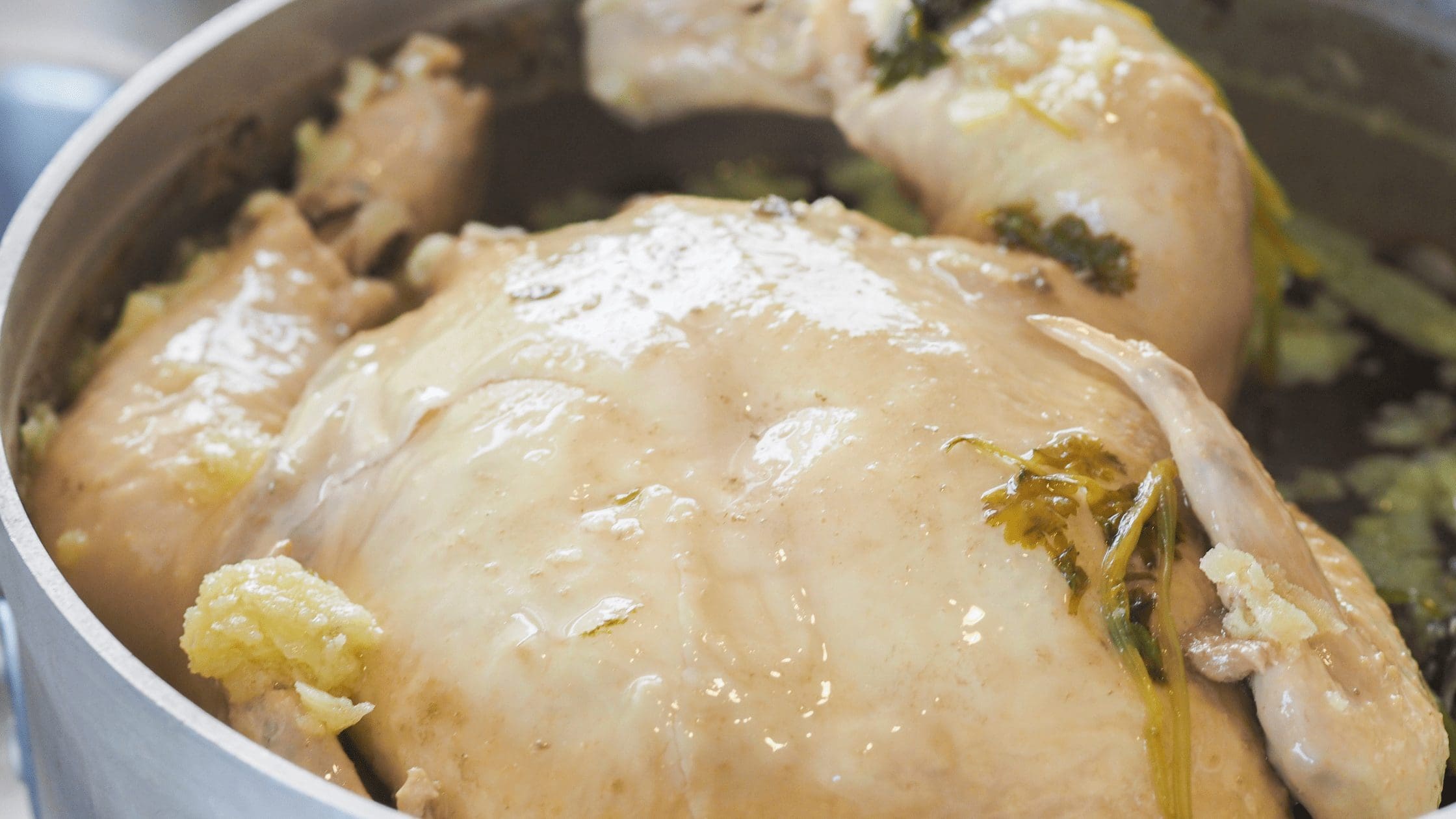 Ingredients
1

whole chicken

3 to 4lbs

½

tsp

black peppercorns

whole

3

cloves

garlic

crushed

2

ribs celery

1

large carrot

1

onion

brown

2

bay leaves

dry

½

bunch flat-leaf parsley

Salt

optional
Instructions
In an eight-quart stockpot or dutch oven, add

chicken

Optional add remain ingredients, except the salt, to a square of cheesecloth. Tie off with twine and add to the pot.

Add enough water to cover completely.

Bring to a boil, then drop the heat to low

Simmer for 60 to 80 minutes.

Remove from heat when the external temperature reaches 160F on a culinary thermometer.

Cover and allow to cool in stock until cool enough to handle

Remove cheesecloth if using, then strain. Reserve the leftover stock.

Discard skin and bones.
Notes
Store stock for up to 3 days in the refrigerator or six months in the freezer.
Use the chicken for soups, salads, sandwiches, and much more.
Nutrition
Serving:
3
g
|
Calories:
337.99
kcal
|
Carbohydrates:
3.46
g
|
Protein:
28.44
g
|
Fat:
22.7
g
|
Saturated Fat:
6.49
g
|
Trans Fat:
0.15
g
|
Cholesterol:
112.5
mg
|
Sodium:
122.2
mg
|
Fiber:
0.91
g
|
Sugar:
1.27
g
|
Vitamin A:
155.15
IU
|
Vitamin C:
9.81
mg
|
Calcium:
36.33
mg
|
Iron:
1.76
mg
Share on Facebook
Share by Email
Share on Twitter