BLT meets
avocado
toast and has a party with some
spicy
jalapenos.  This hardy toast is a feast of textures and flavors.
Say it with me, Spicy BLT Avocado Toast. Perhaps I should start off by saying that I did not think I liked avocado for the longest time. I know, I know.  What type of self-respecting southern Californian does not like avocado?  I swear I did not.  Boy, I have never been so happy to prove myself wrong.
As part of my Tay Tastes Things (again)! Series, I decided to put avocado to the test.  Now, I could not just do it any ole kind of way; I had to be different.  Therefore, I took something I knew I liked, the BLT, and mixed it with something I was not sure I liked.  It was a hit!
That being said, I still do not slather avocado on everything. Oddly enough, I have to continue to remind myself I enjoy the fruit. Since it is after Thanksgiving and I have a couple of pounds of turkey to get through, I am thinking now it is the time to start slicing and smearing avocado on turkey sandwiches.  Turkey BLT with avocado and sliced cheddar cheese sounds like a winner to me. Oh, come on!  Bacon and turkey go hand-in-hand, same with bacon and avocado, including cheddar, bacon, and avocado.  It is a win-win situation!
Eventually, I will start cozying up with my newfound love on other culinary applications.  For now, I want to take my time to really get to know them. It may take a little bit to integrate avocado into my life, and the Spicy BLT Avocado Toast is the vehicle to usher me into new foodie delights.
Some other honorable mentions for Tay Tastes Things (again) include mushrooms (delicious), kimchi (delicious), Gochujang paste (super flavorful), and Gochugaru flakes (extra flavorful).
I hope you give Spicy BLT Avocado Toast a whirl.  At the very least, try something new this week!  Enjoy!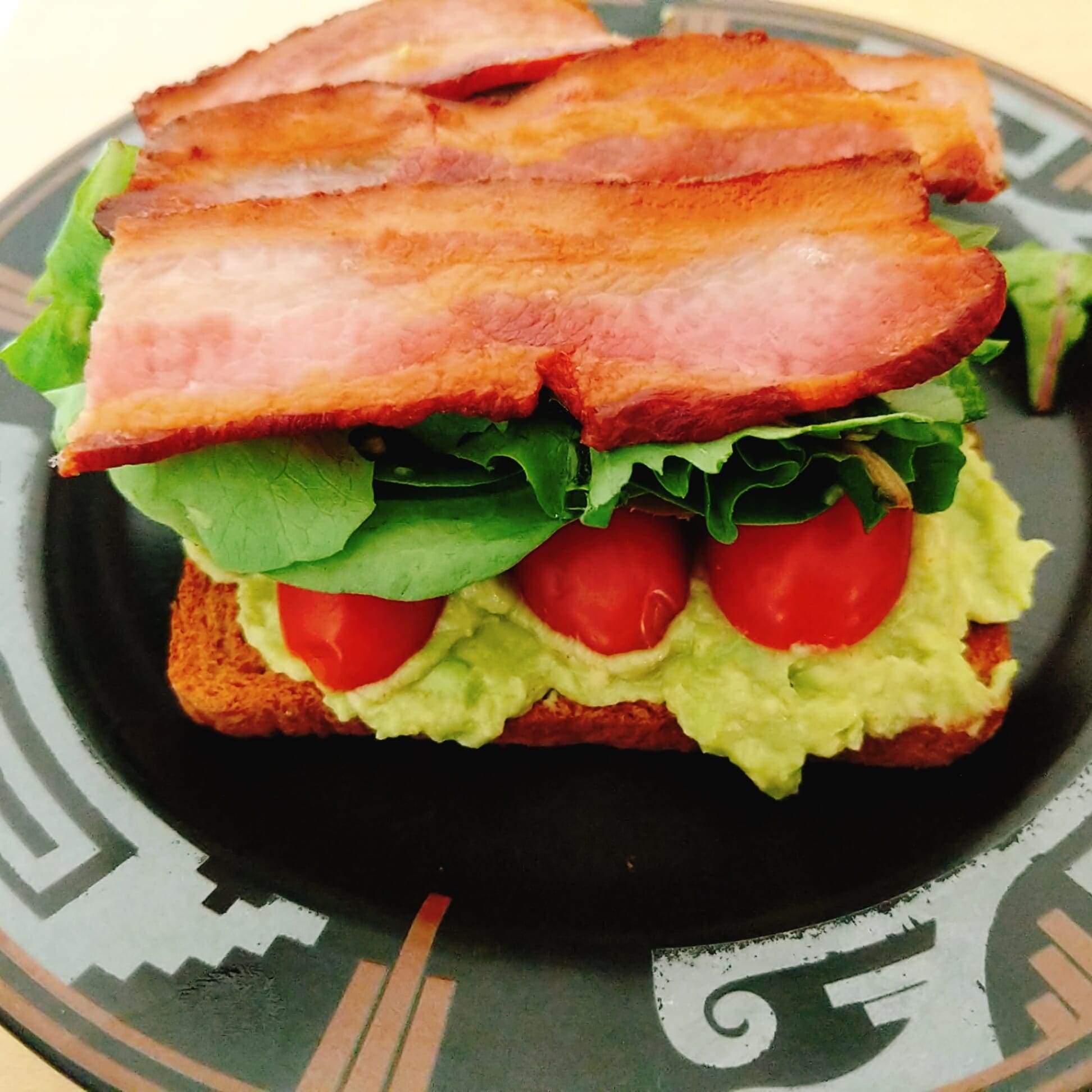 Ingredients
1

tsp

lemon juice

fresh-squeezed

½

tsp

granulated garlic powder

½

tsp

granulated onion powder

kosher salt

to taste

freshly ground black pepper

to taste

4

slices

bacon

thick-cut

8

grape tomatoes

large, sliced in half

12

slices

pickled jalapenos

or fresh

1

handful spring mix

1

handful baby spinach

2

slices

bread

of choice
Notes
Feel free to use any lettuce and tomato to your liking.
You can fry your bacon if you prefer.
For an extra kick stir in some of the juice from the pickled avocados.
Nutrition
Serving:
1
g
|
Calories:
361.54
kcal
|
Carbohydrates:
24.34
g
|
Protein:
12.01
g
|
Fat:
24.43
g
|
Saturated Fat:
8.05
g
|
Trans Fat:
0.08
g
|
Cholesterol:
38.28
mg
|
Sodium:
549.39
mg
|
Fiber:
4.59
g
|
Sugar:
7.46
g
|
Vitamin A:
8.9
IU
|
Vitamin C:
121.35
mg
|
Calcium:
6.44
mg
|
Iron:
9.87
mg
Share on Facebook
Share by Email
Share on Twitter