A rich and delicious classic Lousiana stew with roots in West Afraica.
Finally, we have an almost perfect Chicken & Sausage Gumbo! Three times I have made this recipe from Food Network by Emeril. It is a combination of this and this recipe by him. When I say it was a journey to make this gumbo for the third time, I would not be exaggerating one me!
For starters, the gumbo file is difficult to find in Dayton, OH.  I went to Kroger, Walmart, and Meijer. Nada. Zip. Zero.  In the end, I had to order it from Walmart.com and have it shipped to a local Walmart for pick up. However, it only came in a two-pack, more than I will need for a while! When I went to pick it up, can you believe the kiosk did not function?   I knew I had to make this perfect.
To make sure this dish was a success, I knew I had to nail the roux.  For gumbo, only a chocolate roux will do.  The key to getting that beautiful dark brown color is staying put in front of the stove and stirring. Once it starts browning, this is the point where it can burn quickly! Luckily for me, I was able to get the perfect roux for this gumbo.
I used chicken andouille sausage, which was perfectly spicy.  Cajun and Creole use "the trinity" in place of mirepoix. The trinity includes onions, celery, and bell pepper (instead of carrots). There was a mix of beautiful spices and herbs, which gave the perfect flavor to the chicken stock base.
I love this dish so much. It reminds me of when my (grand) mother used to make it for the holidays. She would include chicken, shrimp, crab legs, and sausage. Even though I am not a big fan of shellfish, I still enjoyed it very much.
With school back in session and a harder semester ahead, this meal is comfort food, stress relief, and self-care! Next time I make it, I will try to make it more low carb using xanthan gum and less roux to thicken.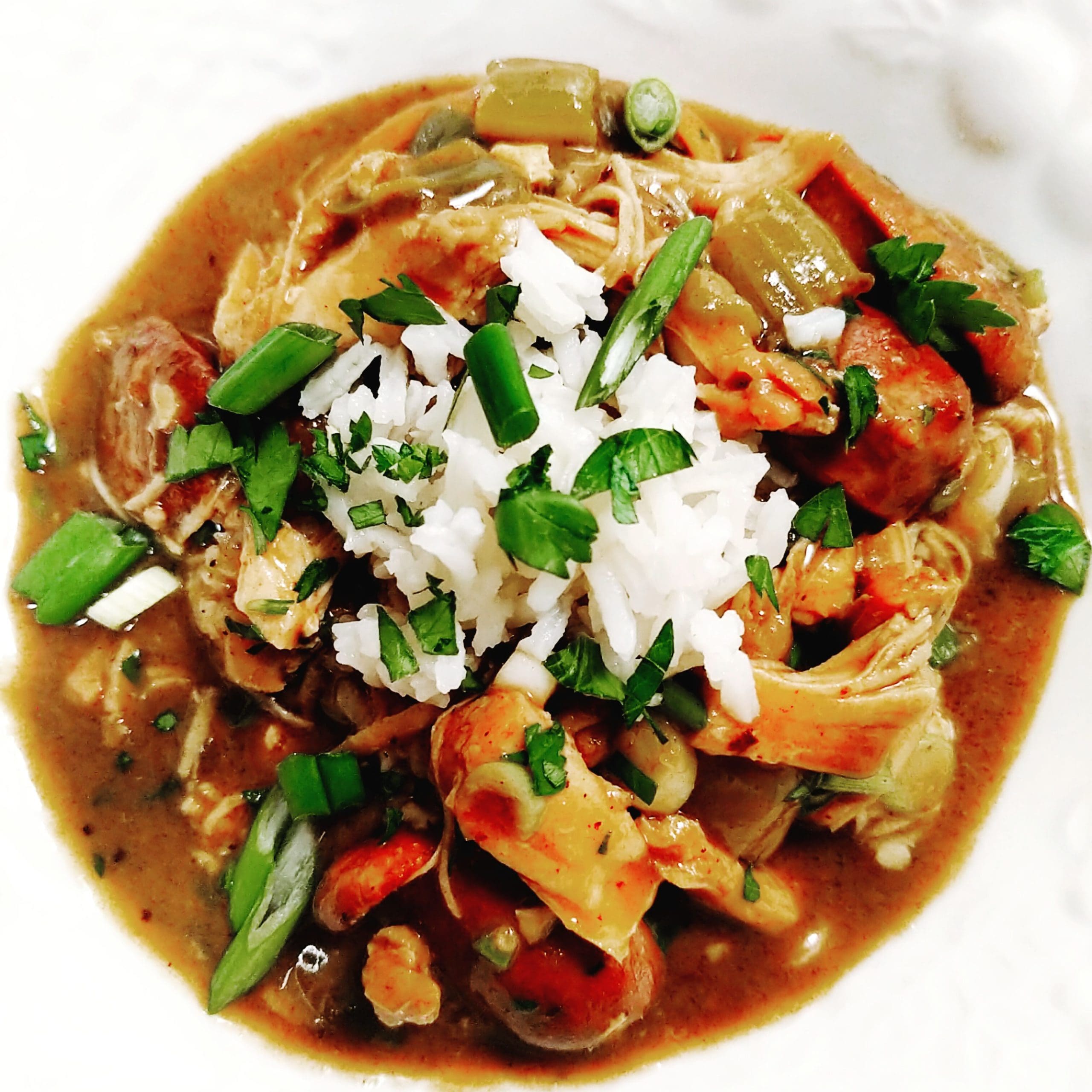 Equipment
2 6 qt stockpot

1 whisk

1 strainer
Ingredients
1

recipe poached chicken with stock reserved recipe here

1

cup

vegetable or canola oil

1

cup

all-purpose flour

2

cups

chopped brown onions

about 3 medium

3

tbsp

minced garlic

about 9 cloves

1

cup

chopped green bell pepper

about 2

1

cup

chopped celery

2 to three stalks with greens

1

tsp

kosher salt

to taste

1

tsp

black pepper

freshly ground

2

each

dried bay leaves

2

tsp

creole seasoning blend

see below

6

each

green onions

thinly sliced

⅓

cup

finely chopped flat-leaf parsley

finely chopped

4

cups

cooked white rice

see below

filé powder
Creole Seasoning Blend
3

tbsp

paprika

7

tsp

kosher salt

4

tsp

white pepper

5

tsp

onion powder

5

tsp

cayenne pepper

5

tsp

dried oregano

5

tsp

dried thyme
Instructions
Notes
Variations
Seafood:  Add raw large (18/20) deveined shrimp, tail on if desired, seasoned with creole seasoning blend in the final 5 minutes of cooking.  Do not add them too soon, or they will become rubbery.  My mom would add clusters of cooking crab legs in the final 30 minutes of cooking. 
Sausage: Feel free to substitute your favorite poultry or beef smoked sausage. 
Chicken: Instead of poaching, use bone-in with skin on chicken pieces (breasts, legs, and thighs) and brown evenly.  Add to the pot with the sausage.  To replace poaching liquid, use 6 cups of chicken or vegetable stock. 
Tomato: If you are a fan of the tomato-based version, add one can of diced tomatoes with juices after the stock. 
Okra: Some people do not mind the sliminess of gumbo, and like filé powder, it acts as a thickener.  Add 1.5 cups of sliced okra in the last 10 to 15 minutes of cooking.  You can also saute the okra seasoned with salt and pepper or more creole seasoning in the same pan as the sausage. 
Vegan: Use six cups of vegetable or vegan chicken-flavored stock.  Omit chicken and sausage for 1 large sliced zucchini, 1.5 cups of sliced okra, 1-14.5 oz can of diced tomato, and/or meat substitute.  Any combination of these will work too. Reduce cooking time to  20 to 30 minutes in total. 
Nutrition
Serving:
2
c
|
Calories:
939
kcal
|
Carbohydrates:
69
g
|
Protein:
39
g
|
Fat:
61
g
|
Saturated Fat:
16
g
|
Polyunsaturated Fat:
20
g
|
Monounsaturated Fat:
21
g
|
Trans Fat:
1
g
|
Cholesterol:
135
mg
|
Sodium:
3041
mg
|
Potassium:
828
mg
|
Fiber:
4
g
|
Sugar:
4
g
|
Vitamin A:
2151
IU
|
Vitamin C:
21
mg
|
Calcium:
102
mg
|
Iron:
5
mg
Share on Facebook
Share by Email
Share on Twitter