Chicken enchiladas are one of my favorite dishes.  For decades, this dish has been in my life.  I have such wonderful memories of my great-grandmother making a pan of ground beef enchiladas without olives when I was a tiny tot. During my teenage years, my grandmother/mom would make them for me.  As she got older, she started to experiment by adding raisins to the ground beef filling. It was not quite my thing, but I loved her adventurous spirit. It wasn't long before it was my turn to start making our family dish.  Unlike my matriarchs, my tastes were simpler.  I like cheese enchiladas with fire-roasted green chiles and white onion topped with a red sauce and plenty of cheese.
At one point, my friend Edna provided me with her family recipe for enchilada sauce that used smoky chipotle peppers. Sadly, that recipe has been lost, and I can't recall all the ingredients.  It was not a traditional sauce because it used tomatoes, but it was delicious, nonetheless.  At this point in life, I tend to use canned sauce since getting dried chiles is a little difficult here in Dayton, Ohio.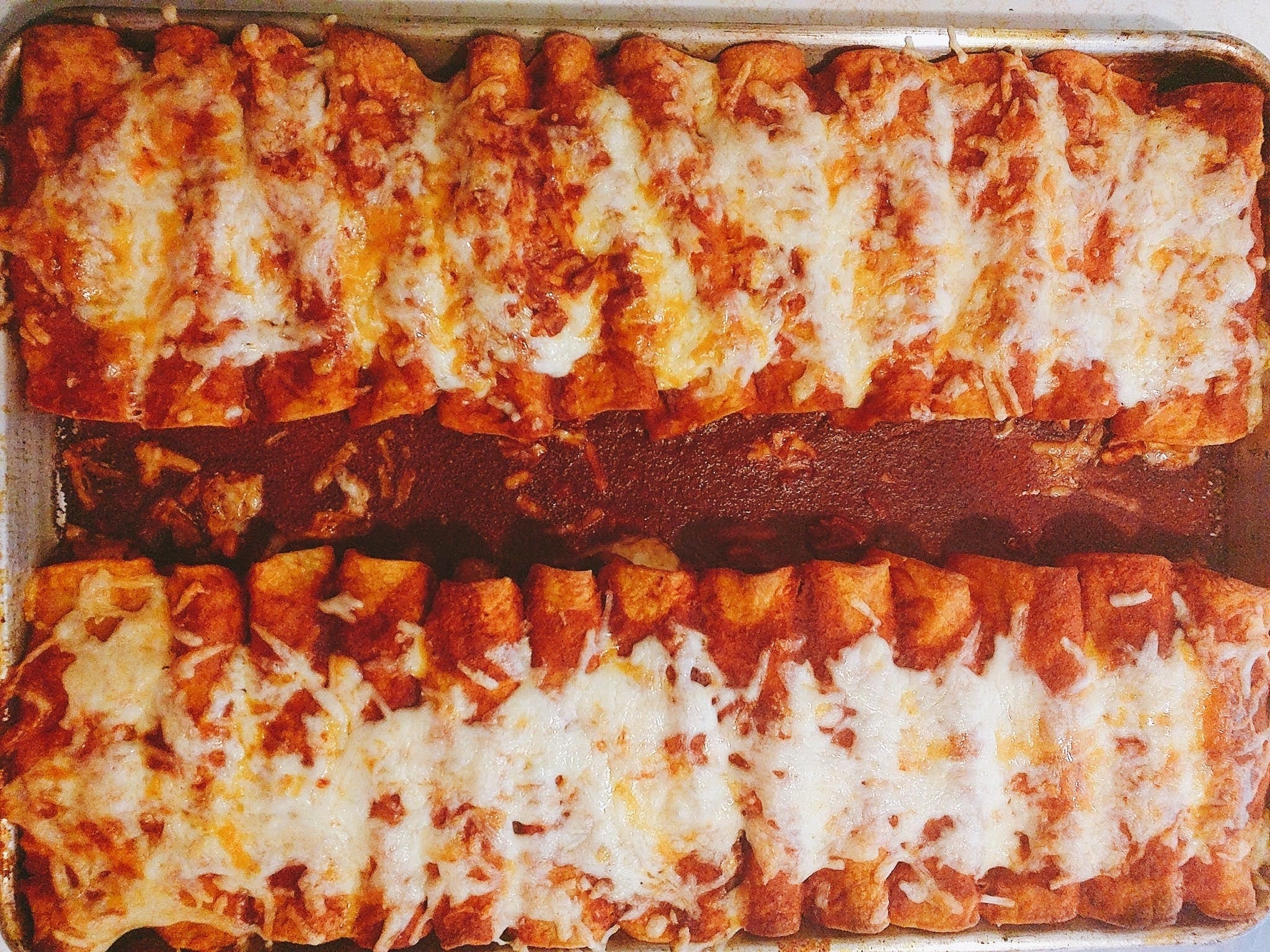 For the vegan options, swap out the Monterey Jack cheese for vegan shreds.
Vegan "Chicken" Enchiladas: Follow the recipe for the Chipotle Vegan Tacos filling. Use veggie stock if more liquid is needed.
Ground Beef Enchiladas: The chicken can be replaced with 2 pounds of browned 80% ground beef.  Use beef stock if more liquid is needed.
Vegan "Beef" Enchiladas: Use 1 ½ pound of ground Beyond Meat instead of ground beef. Finally, diced mushrooms can also be used.  Use veggie stock if more liquid is needed.
Cheese Enchiladas: Increase the cheese by 8 to 12 ounces and omit the chicken for cheese enchiladas.  It is your choice if you want to keep the garlic, onion, and jalapeño or omit. Use the block cheese instead of the pre-shredded.  They use anti-caking powder that makes it harder for the cheese to melt and looks like it has a film over it.  Also, feel free to use pepper jack, mild cheddar, or any melting cheese you like.
Vegan Cheese Enchiladas: Use vegan queso inside along with olives, green onion fire-roasted green chiles. Omit the jalapeño if desired.
Personally, I always use corn tortillas. I like the texture of corn over the flour.  However, the choice is yours.  Unless you use street taco size flour tortillas, you will probably get just over a dozen enchiladas instead of two.
Rimmed half sheet pan (13x18x1)
Ingredients
3 ½

lb.

whole chicken

bone-in and skin on

2

white onions

6

whole cloves garlic

2 ½

tsp

kosher salt

2

– 4 jalapeno or serrano chiles

seeded and diced

1

– 7.75 oz El Pato

green, yellow, or red can

2

tsp

cumin

2

tsp

Mexican oregano

2

tsp

ground chiles

ancho, chipotle, New Mexico, or your choice

2

tbsp

vegetable or canola oil

1

– 28 oz can red enchilada sauce

1

– 28 oz can green enchilada sauce

1

– 4 oz can fire-roasted green chiles

diced

1

– 3.8 oz can black olives

sliced

1

– bunch green onions

thinly sliced

32

oz

Monterey Jack cheese block

grated

24

corn tortillas

Vegetable or canola oil for frying
Instructions
Peel one white onion then cut into quarters.

Meanwhile, dice the remaining onion and garlic; keep them separated. Seed and dice the serrano or jalapeno peppers. Set aside

Discard

onions

, garlic, skin, and bones.

In a large sauté pan over medium-high heat, add to 2 tablespoons of oil. Once hot, add

onions

and chiles, sauté for 5 to 7 minutes. Add garlic, stirring constantly until fragrant, about 30 seconds to 1 minute.

Simmer for 20 minutes over medium-low heat. The

chicken

should be "saucy" with no runny liquid.
For the Tortillas, Sauce, and Filling
In a 3-quart saucepan, add both cans of enchilada sauce, simmer over medium heat for 15, stirring every 2 to 3 minutes. Cool slightly, then pour into a large bowl. Set aside.

Drain olives. Rough chop about two-thirds of the can place in a medium-sized bowl. Set the remaining slices aside in a small bowl for garnishing.

Drain green chilies, add to the bowl with the olives.

Thinly slice 6-8 green

onions

, including the white part, add them to the bowl with olives and chiles. Save ½ to 1 cup of part green for garnish in a bowl.

In a small skillet, heat 1 tbsp of oil over medium-high heat. Add on tortilla in the pan and fry each side for about a minute each. The tortillas should be pliable and not crispy. Stack them on paper towels to drain
To Assemble:
Preheat oven to 375 degrees

On a half sheet pan, spoon enough enchilada sauce to coat the bottom of the pan, about ½ to ¾ cup.

Quickly dip the tortilla into the enchilada sauce and place it on the rolling plate.

Roll the tortilla away from you, place it on the sheet pan. Continue until all tortillas are used.

Evenly spread

enchiladas

with more sauce. Cover with

cheese

. Top them with sliced olives and green onion tops.

Loosely cover with foil and bake for 20 minutes. Remove foil and bake for 10-15 minutes more or until

cheese

is melted and bubbly.
Nutrition
Serving:
2
g
|
Calories:
417.72
kcal
|
Carbohydrates:
31.81
g
|
Protein:
21.26
g
|
Fat:
23.4
g
|
Saturated Fat:
9.57
g
|
Trans Fat:
0.49
g
|
Cholesterol:
69.18
mg
|
Sodium:
956.15
mg
|
Fiber:
5.27
g
|
Sugar:
6.32
g
|
Vitamin A:
13.74
IU
|
Vitamin C:
10.38
mg
|
Calcium:
32.61
mg
|
Iron:
12.31
mg
Share on Facebook
Share by Email
Share on Twitter