Buffalo Chicken Mac & Cheese is not my creation.  Even though I did not look up a recipe for this, I know this combination exists.  However, this is my recipe, handed down to me by my grandmother.  When I became the holder of this recipe, I changed it up a  little.  My grandmother would not make a cheese sauce.  She would use mayo, buttermilk, and lots of cheese.  As strange as it sounds, it was delicious, but it was also a heart attack in a pan.  I made it her way for several years, and it was always a hit. 
Then one day, I started taking cooking classes and learned about bechamel sauce, which in turn lead to this cheese sauce. I've made it this way ever since.  I do take out an insurance policy against having a grainy sauce that comes in the form of cream cheese and Velveeta.  If your sauce-making skills are top-notch, you can forgo those two items.  I use them because it keeps my anxiety down while making this sauce.   
Well, back to making this recipe. One day, I decided to jump into the kitchen to see the food I have and what I could do with them.  I was standing with the refrigerator door open, looking at a bottle of Frank's Red Hot, a pack of boneless skinless chicken breast, and several varieties of cheese at my disposal.  I was trying to decide if I wanted cheese or buffalo chicken strips. Suddenly, it dawned on me!  I can have both. What if I mixed Buffalo chicken with cheese, mac & cheese that is.  Buffalo Chicken Mac & Cheese was born. If you need a suggestion on how to cook the chicken, give this a peek.
I have made this several times and forgot to take great pictures of it.  Please excuse my lack of foresight.   
Without further ado, I give you: Buffalo Chicken Mac & Cheese.
P.S. If you are looking to veganize this recipe, I suggest using this cheese sauce.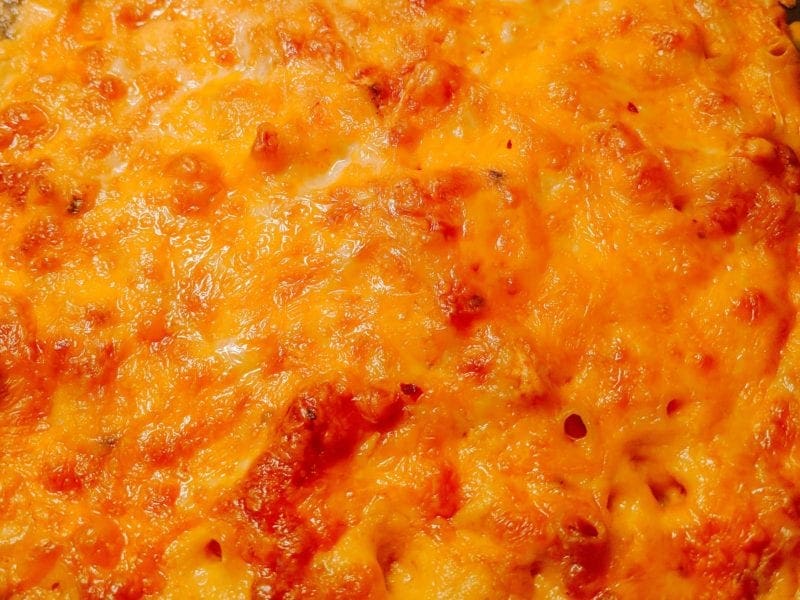 Ingredients
6

oz.

pepper jack cheese

grated, 2 oz. set aside

6

oz.

sharp cheddar

or Colby cheese, grated, 2 oz. set aside

6

oz.

Monterey Jack cheese

grated, 2 oz. set aside

2

oz.

cream cheese

cold and cubed

2

oz.

Velveeta

cold and cubed

3-4

cups

whole milk

2

cloves

garlic

minced

3

tbsp

all-purpose flour

7

tbsp

unsalted butter

3 tbsp separated

1

tsp

dried mustard powder

½

lbs

elbow macaroni

¼ - ½

Franks' Red Hot or wing sauce of choice

½

cup

of blue cheese crumbles - optional

2 to 4

tbsp

ranch dressing - optional
Instructions
Preheat oven to 350 degrees

In a 6-quart pot, bring 6-8 cups of water to boil over high heat

Combine all the grated

cheese

keeping the 2 ounces aside for topping

In a 3-quart pot, melt 3 tablespoons butter over medium-high heat. Once melted, add garlic and cook until fragrant, about 30 seconds

Add

flour

and whisk together continuously for 3 minutes. Do not let the roux brown

Whisk in one cup of milk and simmer until thickened

Slowly whisk in the 2 cups of milk. If the mixture is very thick, add more milk until desired consistency. Bring to a simmer, then reduce heat to medium

Meanwhile, add a generous amount of salt to the boiling water in the 6-quart pot, add pasta while stirring. Cook until just al dente per package instruction.

Whisk the cream

cheese

and Velveeta in 3 patches into the milk mixture until smooth.

Stir in the buffalo sauce, per your liking

Drain pasta and transfer to a large bowl and

chicken

.

Place on a sheet pan and bake for 30 minutes or until bubbling and all the

cheese

has melted.

Drizzle with ranch dressing if using.

Let rest for 15 to 20 minutes before serving.
Notes
Try not to use store-bought pre-shredded cheese; the anti-caking agent used makes the cheese harder to melt.
You can dice two ounces of one or all of the five kinds of cheese to add to the mac-n-cheese before it is transferred to the baking dish.  Just wait five minutes after everything is mixed and ready to go in the baking dish.  This will give little pockets of cheese in the finished product.
I suggest getting the Velveeta that is sold in five mini blocks. One block is perfect for this. Or doubling the cream cheese and leaving it out.  If you are very good at make béchamel cheese sauce, you can leave the cream cheese and Velveeta out.
If you need to make a bigger batch, use 6 - 7 cups of milk and 10 oz. each of the shredded cheese with 1 lb. of pasta.
Your sauce should flow off your whisk into a thick stream. Add more milk if it is too thick. If it is too runny, add more cheese or a little pasta water. The starch from the pasta will thicken it in the oven.
Alterations
The recipe works well with gluten-free chickpea pasta. My personal favorite is Banza.
Swap out the chicken for cauliflower or chicken substitute for a vegetarian version.  Replace the milk with your preferred unflavored and unsweetened plant-based milk, sub in your favorite dairy-free cheese sauce recipe I use a modified version of this recipe from Blacks Going Vegan.  Top with your favorite shredded cheese.  Miyoko's Creamery has some great products.
Nutrition
Serving:
0
g
|
Calories:
688.47
kcal
|
Carbohydrates:
31.23
g
|
Protein:
39.5
g
|
Fat:
44.79
g
|
Saturated Fat:
25.77
g
|
Trans Fat:
0.44
g
|
Cholesterol:
159.14
mg
|
Sodium:
755.03
mg
|
Fiber:
1.03
g
|
Sugar:
7.62
g
|
Vitamin A:
35.8
IU
|
Vitamin C:
0.3
mg
|
Calcium:
68.41
mg
|
Iron:
7.55
mg
Share on Facebook
Share by Email
Share on Twitter