The hardest part of making this was deciding how much filling I could get inside of the wrapper.   Before I could resolve how much, there was the matter of what to put inside the wrapper.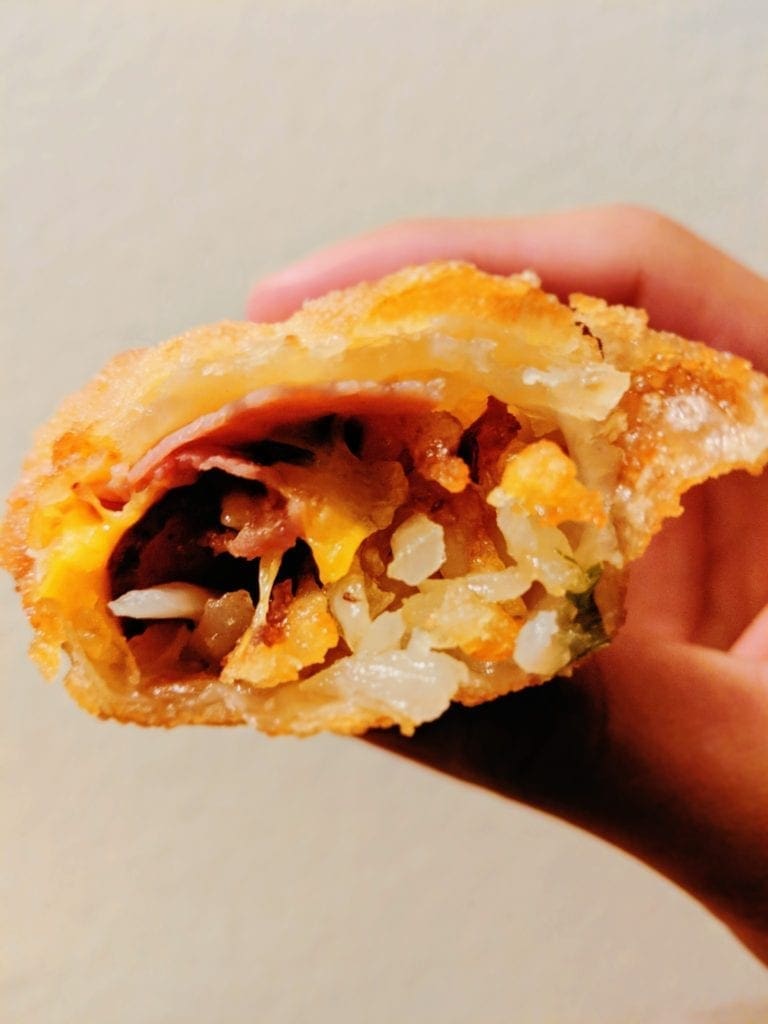 Bacon got fried, the ham received a slicing. And the hash browns were, umm well browned.  Cheddar cheese got shredded like it spent too much time in the gym. I even scrambled an egg for my unsuspecting taste tester.
In a cast-iron skillet, I added the right amount of vegetable oil, then cranked up the heat to medium-high.  These babies only need to cook for no more than 4 minutes.  While the oil was warming, I started the assembly line.  Because I love to wash dishes (that was sarcasm), each ingredient was in its little ramekin.  I have a beautiful mismatched collection of them from my days of eating out. I was ignorant of the fact; you could ask for small containers to take home any condiments.  My bad.
In another bowl, I had an egg wash.  Just in case you are unfamiliar, an egg wash it an egg mixed with water or milk to act as a glue or to make baked things shiny.  In this case, I was going for the it glue function.  Keep a damp down handy to cover the egg roll wrappers to keep them from drying out.
On a dinner plate, layout one wrapper then places your filling in a line down the middle. I like to keep the point of the egg roll wrapper pointed towards me.  The mixture goes almost diagonal, so it already lined up to be rolled.
If there is too much filling, the wrapper will tear, and breakfast egg rolls had failed before they even started.  Once you get them wrapped up, take for a dip in the now hot oil for a couple of minutes.
Serve them with ketchup if you so, please.  While you here check out a few recipes.