Inspired by
Mexican
Frijoles Charros and traditional Baked
Beans
, my
Slow Cooker
Cowboy Beans
(almost sometimes called Ranchero
Beans
) have smokey and rich in flavor. However, these
beans
are not as sweet as Baked
Beans
but have all the spice of Chili
Beans
.  They make a fantastic stand-alone meal or pair them with protein of your choice in limitless combinations.  They also freeze quite well. The
beans
can be made in a slower cooker,
Instant Pot
(pressure cooker), or stovetop.  Additionally, they can be made on a grill or in the oven.  The oven will mimic a
slow cooker
, and the grill can stand in for a stove. 
Charros are
Mexican
cowboys, one of the original horsemen, and frijoles is Spanish for
beans
. Furthermore, My
Slow Cooker
Cowboy Beans
are a cross been between baked
beans
and chili
beans
.  They differ from Frijoles Charros with the addition of molasses and bell pepper.  The
meat
used can vary in the original but
bacon
, ham, and or chorizo are comma.   In addition to
bacon
,  I use leftover
Tri-Tip
and
Beef
Brisket
.   Now, if you do not have any leftover
brisket
and
Tri-Tip
laying around, you can always make this with all
bacon
.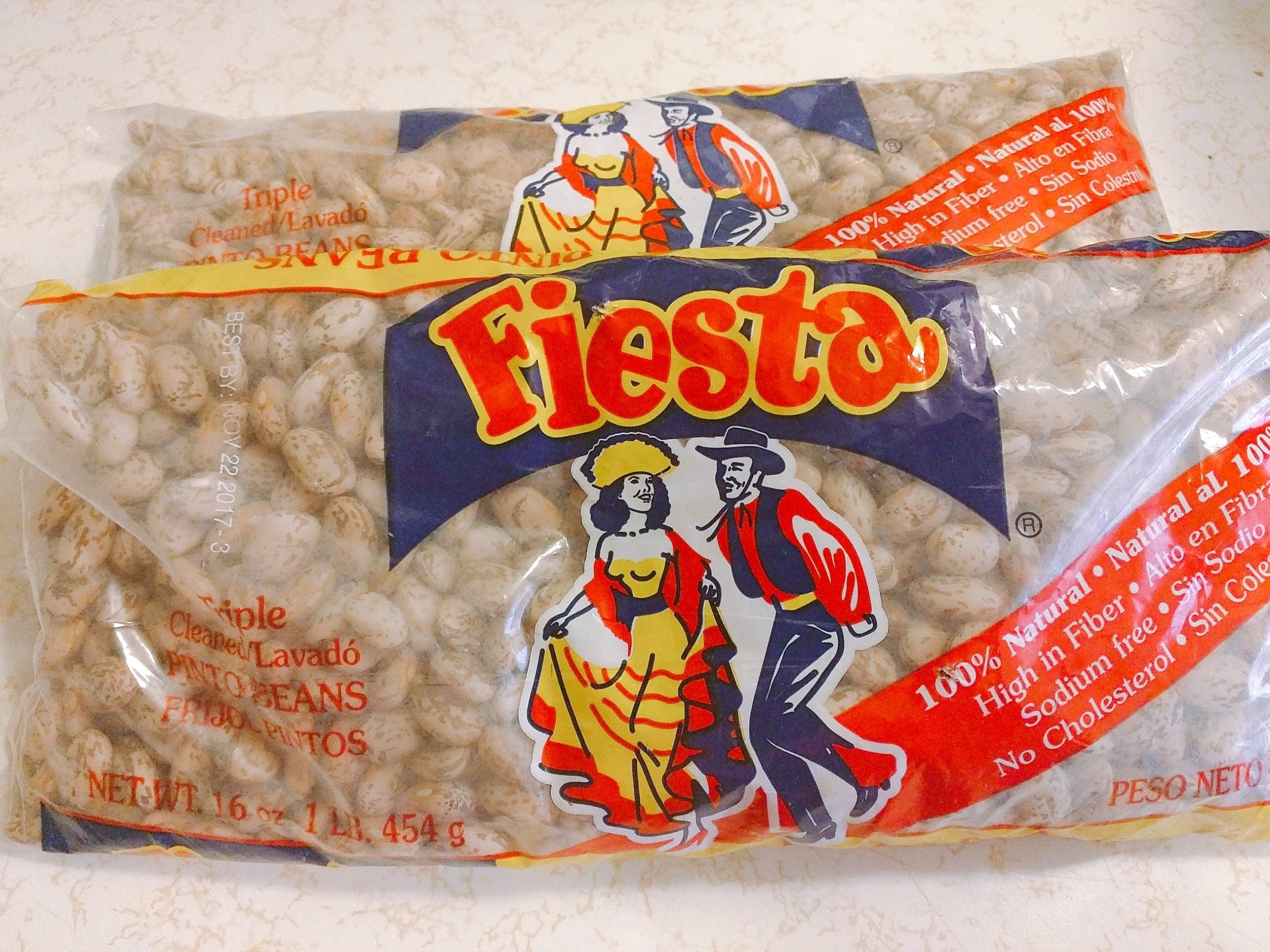 Now it is time to make the 
Slow Cooker
Cowboy Beans
. After 8 hours, I drained the
beans
, added garlic, dried oregano (
Mexican
),
onions
, jalapeno, bell pepper,
bacon
,
Tri-Tip
,
Beef
Brisket
, cumin, pepper, chili powder, and molasses.  Set the
slow cooker
to low and cook for eight hours. Alternatively, you can put them in a big ole pot, bring them to a boil, drop the heat, simmer and cook for 2-3 hours until tender but not broken.  Yep, I forgot to take a pic of this stage.  
I like using dried
beans
for this dish which requires a four to eight hour/overnight soak in water.  There are a couple of quick soaking methods such as the one on the
How to Cook Dried Beans guide from Serious Eats
. There is a bit of debate about whether or not the
beans
are to be salted during the
cooking
process. I am a little old school and I do not salt the bean until they are starting to get tender at the time I also add the tomato.
Alternatively, using canned
beans
instead of dried will shorten the
recipe
time since there will be no soaking involved. Try to use no salted added canned
beans
.  I prefer using pinto
beans
but black
beans
or a mix of the two are great as well.  Reduce the simmering time to thirty minutes.  No
slow cooker
would needed to make these
Slow Cooker
Cowboy beans
when used canned
beans
. To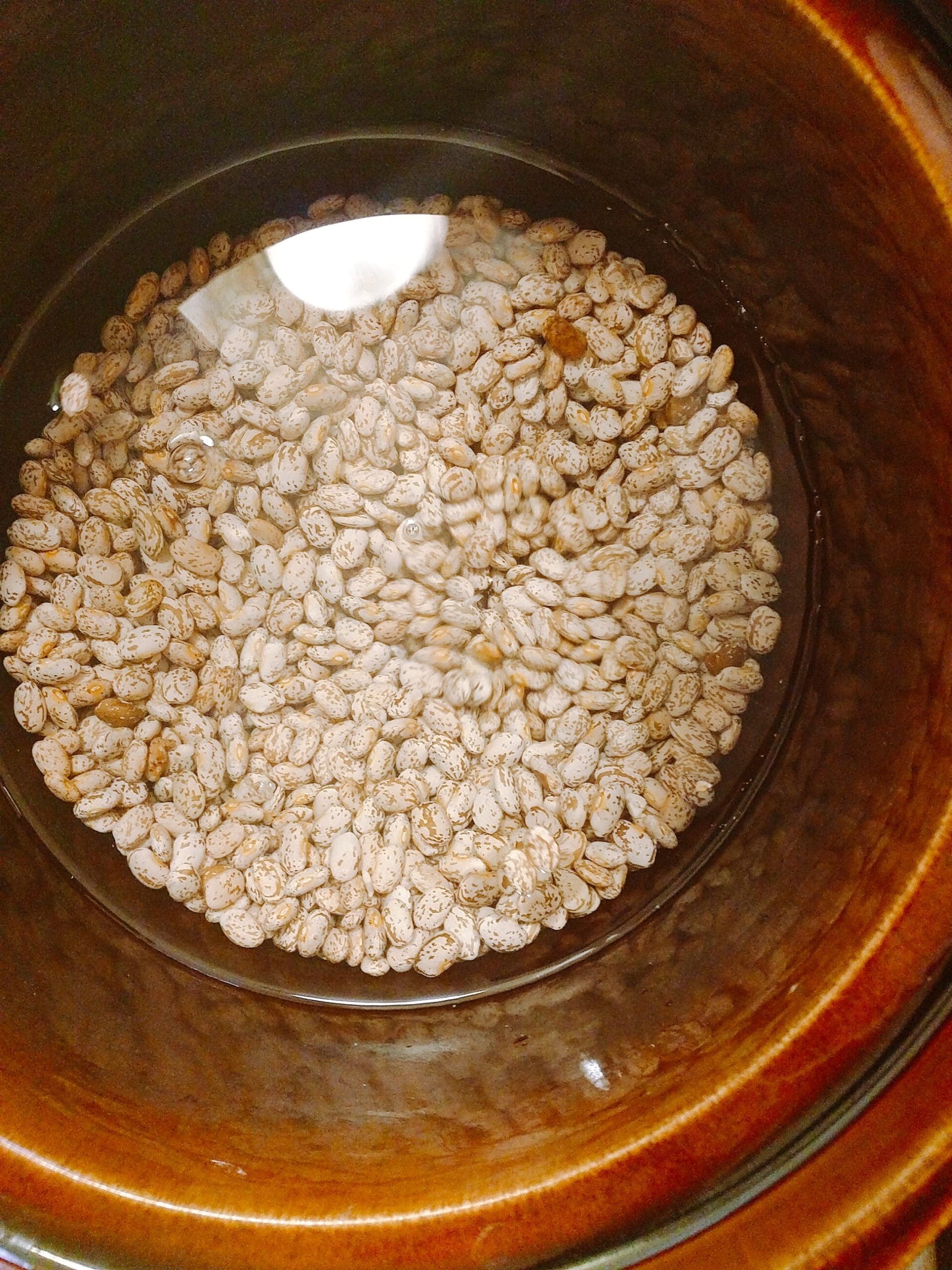 If you do not have any leftover tri-tip or brisket stated in the Slower Cooker Cowboy Beans, you can easily sub in pulled chicken, pork, or jackfruit. Also, leftover carne asada and or carnitas would be excellent as well.  I have seen other recipes that use ham, chorizo, and soyrizo—of course, using the pre-cook versions in the meat section work very well. 
These beans are easily veganized.  You can sub in your favorite plant-based meat substitutes or omit the meat altogether.  If you do not use any replacement, be sure to add smokey elements such as smoked paprika, liquid smoke, and or chipotles. Diced mushrooms or mushroom powder can provide hardiness.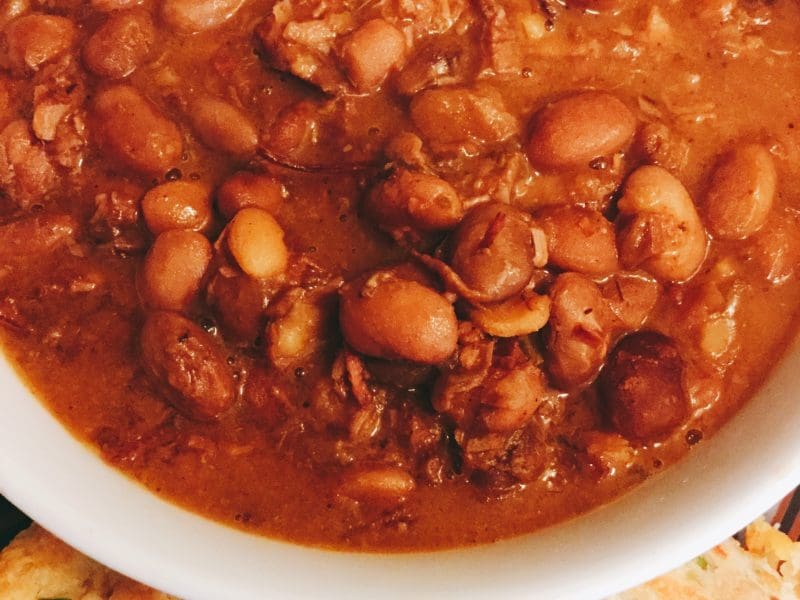 Ingredients
2

lbs

dried pinto beans

¼

lbs

sliced tri-tip

cut into 1-inch pieces

¼

lbs

sliced brisket

cut into 1-inch pieces

6

slices

of bacon

cut into 1-inch pieces

2

medium white onion

medium chop

2-4

jalapenos

diced (heat is based on your preference. I used two unseeded)

2

red or orange bell peppers

medium chop

2

tsp

cumin

2

tsp

salt

or to taste

1 ½

tsp

black pepper

freshly ground

1

tbsp

chili powder

¼

cup

molasses

2-3

cups

beef broth
Instructions
Soak

beans

in enough water to cover by half for eight hours or overnight covered at room temperature.

Add jalapenos,

onions

, and peppers and saute until slightly soft, about 5 to 6 minutes.

Drain

beans

, add veggie mixture, molasses, broth, and spices into the

slow cooker

. Use extra water to make sure

beans

are covered. Stir to combine. Turn slower cooker to low and cook for 8 hours.

Beans

are done once tender, yet firm.

Add salt and stir well.
Notes
Store in the refrigerator for up to five days.
Nutrition
Serving:
4
g
|
Calories:
246.35
kcal
|
Protein:
13.95
g
|
Cholesterol:
14.93
mg
Share on Facebook
Share by Email
Share on Twitter